Stop Phishing.
Protect Email Data.
Trust your inbox with Sophos Email security.
SOPHOS | Data Security
Get Peace of Mind from Data Security
Secure sensitive data and make compliance easy. Sophos Email automatically scans messages and attachments for sensitive data, with encryption that integrates seamlessly.
Prevent Data Loss
Create multi-rule DLP policies for groups and individual users to ensure protection of sensitive information with discovery of financials, confidential contents, health information, and PII in all emails and attachments.
Encrypt and Authentication
Encrypt messages and add a digital signature to verify sender identity with S/MIME, or select from customizable encryption options including TLS encryption, attachment and message encryption (PDF and Office), or add-on full web portal encryption.
Prevent Phishing and Imposter Threats
Trust your inbox again with cloud email security protecting your people and critical information from malware, as well as malware free phishing and impersonation attempts.
Keep Imposters Out
Automatically identify your high-profile targets for malware-free impersonation and business email compromise attacks, then block the attack with machine learning analysis of message content.
Let Trusted Senders In
Authenticate all your senders without blocking legitimate email using SPF, DKIM, and DMARC authentication techniques and email header anomaly analysis.
Stop Malware From Reaching the Inbox
Multi-layered protection utilizes over 35 years of threat intelligence, reputational and behavioral analysis, and state-of-the-art machine learning to eliminate malware and malicious URLs from reaching your inboxes.
Protection Post-delivery
Automatically remove phishing emails containing newly infected URLs as soon as the threat state changes with continuous monitoring of Microsoft 365 mailboxes.

Increase Your Efficiency Cybersecurity that works with your world
Sophos provides intuitive and incredibly broad visibility and protection, all managed from a single management console to increase efficiency.
Say goodbye to email MX record redirections with Microsoft 365 API integration to get setup faster, and process messages sooner
Empower your users with self-service controls to allow or block senders and manage quarantine
Do more with your day, combining email protection with endpoint, server workload, mobile device security, firewall, zero trust, public cloud security in one console
Enjoy Faster Flowing, Safer Email
Sophos stops more threats faster, keeping email flowing to your users with high performance advanced threat detection and response.
Efficiency Built on Experience
Decades of threat intelligence data from SophosLabs means if we already know a message is bad, we block it at the source to optimize sandbox performance and deliver safe messages faster.
Blocking Bad Behavior
Threats constantly change their appearance. How threats behave is what remains constant. Sophos' cloud sandbox analyzes all file processes, file activity, registry activity, and network connections to block ransomware and other forms of malware.
Power of Deep Learning AI
The same technology as our award-winning endpoint protection, Sophos deep learning artificial intelligence blocks zero-day malware and unwanted applications in their tracks.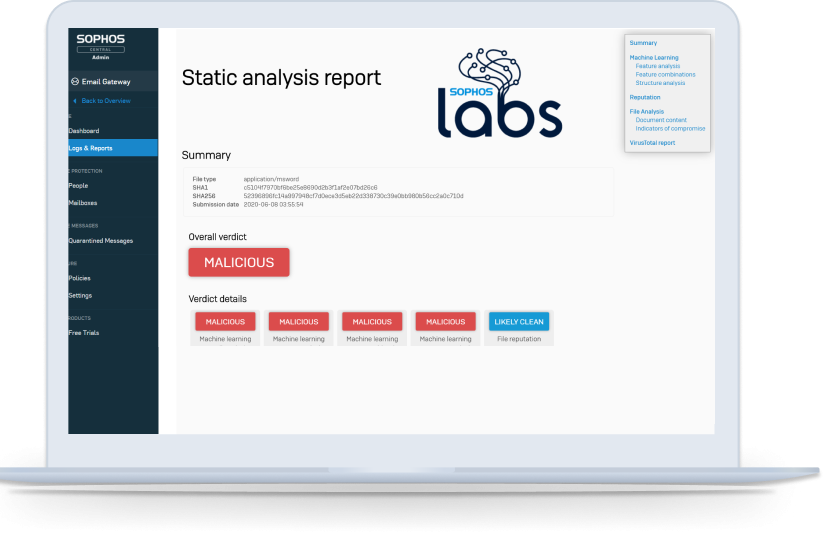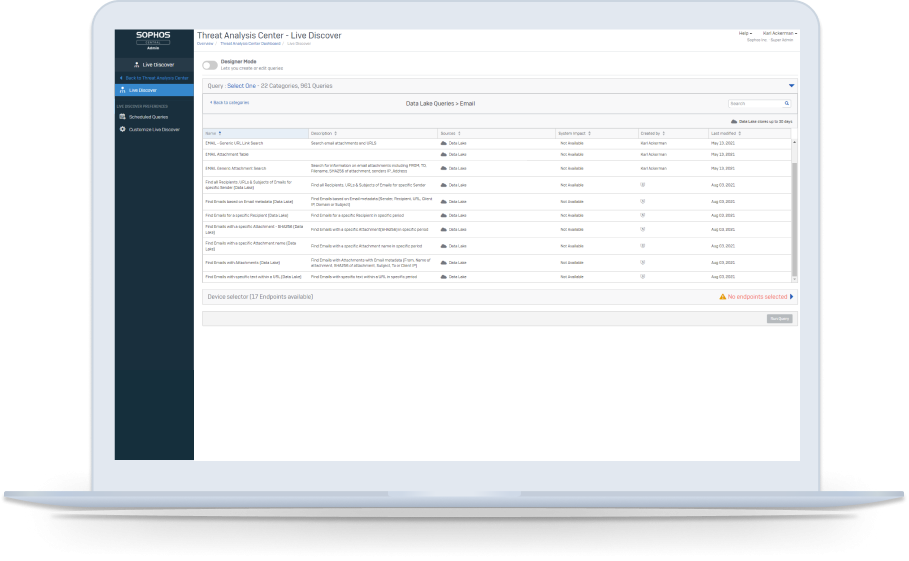 Maximize Security Investments
With many cyberattacks starting with phishing. Sophos unlocks end-to-end visibility across your environments, with clear dashboards, detail threat reports, and extended detection and response.
Deeper Understanding of Threats
Anti-malware scanning and sandboxing provide detailed verdict reports based on machine learning analysis, file reputation, VirusTotal results and MITRE ATT&CK Matrix tactics to giving you a deeper understanding of threats targeting your organization.
Shared Threat Intelligence
Maximize security investment with shared threat intelligence from endpoint and email protection in the Sophos XDR data lake. Enabling you to identify previously unseen indicators of compromise or and remove suspicious files across environments. Then extend visibility across Microsoft 365, cloud server workloads, the network and more.
Sophos XDR Use Cases
Reduce Your Attack Surface
Sophos Email security is part of a broader Sophos ecosystem of protection, uniquely connected to automate threat detection and response.
Detect Compromised Mailboxes
Compromised devices lead to your brand and mailboxes being used to spread spam and phishing. Sophos Email security connects with Sophos Endpoint protection to automatically detect and stop these malicious messages.
Build Stronger Security Awareness
Cybersecurity awareness training is an important aspect of your security strategy. Sophos Email connects with Sophos Phish Threat, an additional service, to identify at risk users and increase security awareness through phishing simulations cybersecurity training moduleS.
Pretende obter mais informações? Fale connosco